Google has added a special COVID layer to Google Maps to give critical information about COVID-19 cases in a given area. With the pandemic showing no signs of abetting and experts already warning of a second wave in the coming months, and traveling becoming more and more complicated these days, the new features are expected to help users make more informed decisions about where to go and what to do as safely and efficiently as possible. The COVID layer starts rolling out worldwide on Android and iOS this week. 
How it works
A user can see a seven-day average of new COVID-19 cases per 100,000 people for the area of the map he/she is looking at. There is a label that indicates whether the cases are trending up or down.
Google says trending case data would be visible at country level for all 220 countries and territories that Google Maps supports, along with state or province, county, and city-level data where available. This is available when one taps on the layers button on the top right hand corner of the Google Maps dashboard and clicks on "COVID-19 info". There is color coding to help users easily distinguish the density of new cases in an area.
ALSO READ: Google Maps gets an overhaul – more colors, more accuracy
The data featured in the COVID layer comes from multiple authoritative sources, including Johns Hopkins, the New York Times, and Wikipedia, Sujoy Banerjee Product Manager, Google Maps, said in a blog post.
COVID-19 updates
Since the outbreak, Google has released a series of updates and features like popular times and live busyness, COVID-19 alerts in transit, and COVID checkpoints in driving navigation to help users find important information about the pandemic help them stay safe.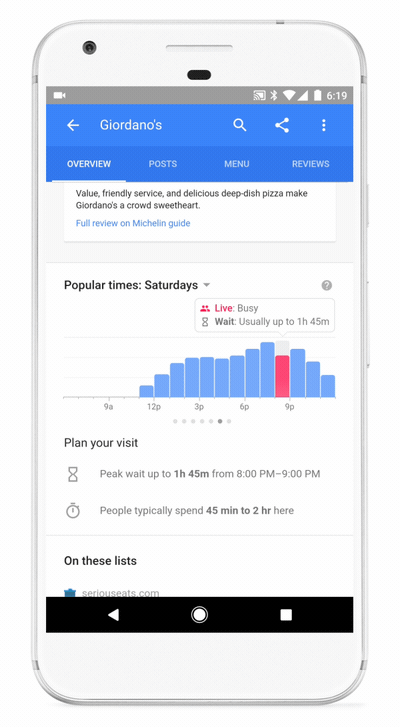 Popular times and live busyness provides popular times, live visit information, wait times, and typical visit duration to help businesses. This data appears below the regular business information on Google Maps and Search. For this, Google uses aggregated and anonymized data from users who have opted have their location history on to find popular times and wait times for businesses if they gets sufficient visits from these users. A business can't manually add this information.
Travel and transit alerts were launched in June as countries were slowly beginning to reopen. They give how crowded a train station might be at a particular time or whether the bus is running on a limited schedule. It was released on both Android and iOS initially in Argentina, Australia, Belgium, Brazil, Colombia, France, India, Mexico, Netherlands, Spain, Thailand, United Kingdom and the US where Google had information from local transit agencies.
ALSO READ: COVID impact – More awareness now around mapping of our indoors
Further, driving alerts on Google Maps notify users about COVID-19 checkpoints and restrictions along their routes, like when crossing national borders. The relevant alerts from local transit agencies can help a user prepare accordingly if government mandates impact transit services or require you to wear a mask on public transportation.
For navigating to medical facilities or COVID-19 testing centers, Google Maps displays an alert reminding a user to verify eligibility and facility guidelines to avoid being turned away or causing additional strain on the local healthcare system.