Bentley Systems, a prominent provider of AEC applications software, announced the opening of an initial public offering (IPO). Filing with the Securities and Exchange Commission (SEC) in August of 2020, and as per their September 15, 2020 press release, the firm will offer: "10,750,000 shares of its Class B common stock. The shares of Class B common stock to be sold in the offering will be sold by existing stockholders of Bentley. The selling stockholders expect to grant the underwriters in the offering a 30-day option to purchase up to an additional 1,610,991 shares of Class B common stock from the selling stockholders. The estimated initial public offering price is between $17.00 and $19.00 per share. Bentley has applied to list its shares on the NASDAQ Global Select Market under the symbol BSY". At present, Bentley Systems is valued at nearly $5 billion and 2019 revenue of $737 million.
Why now? And what will going public hold for this family founded business that grew from a humble beginning in the 1980s to an international leader in AEC software?
This is not the first time Bentley has looked at going public. A 2002 IPO was withdrawn, and 2015-2016 moves in that direction were not further pursued. Instead, strategic alliances with Siemens provided capital for expansion. Siemens is a global leader in the digitalization of multiple industries, including AEC. Siemens invested $54 million in developing a joint software with Bentley Systems and about $76 million for a minority stake in Bentley common stock (under a company program at the time to continue until such time as Bentley Systems' stock would be publicly traded).
ALSO READ: How digitalization helped AEC sector adjust​ to COVID disruptions
Bentley has entered in numerous strategic alliances, but the investments by Siemens sparked rumors of a potential buyout. IPOs often create interest in such moves, and other names have hit the rumor mill (though none as credible as Siemens). There is no indication that a buyout is an eventuality, but either way, the IPO could provide Bentley with additional resources to invest in its future. And timing could not be better — the digitalization of AEC is at a pivotal juncture. Lofty concepts are now being realized: digital twins, 4D/5D construction, and more — no longer just buzz terms. Just what could the impacts be? Let us leave the financial analyses aside and look at the potential impacts to AEC and the design, construction, and operations of infrastructure.
A look back
Bentley has always been a fairly unique firm in the AEC space. Founded and operated by siblings, and still based in the family home region of southeastern Pennsylvania. Yet it has grown to a global concern, and "owns" certain segments of the industry. Bentley Systems was not the origin of digital AEC, but it accelerated key elements that might have otherwise crept along in the ponderous software development environment of the day.

Keith Bentley was working as an engineer at DuPont in the early 1980s, using the large mainframe-based CAD system from Intergraph. Such systems represented the state of the art in computer-aided design and drafting but were huge and prohibitively expensive. Keith came upon the idea to write software to run on a small CRT terminal (and later a PC) to perform many of the same CAD functions.
ALSO READ: Digital twin is the backbone of infrastructure decision-making, says Keith Bentley
"The problem is that the terminal was weighing down the CPU the same as the [large] workstation," Keith says. "So, I wrote software that could run standalone for early PCs, like the [PC/AT]." He dubbed this early solution, "PsuedoStation." While driving to California to work with his brother Barry in an unrelated tech company, Keith stopped at Intergraph in Huntsville to show them his solution. However, they were not interested in PsuedoStation. Keith and Barry formed Bentley Systems, Incorporated in 1983.  By 1985, they had a new version called MicroStation that could run on a 286 and could do many of the things that a large mainframe system could do. The relationship with Intergraph continued to be complex, but Bentley Systems had grown substantially in its own right. By 1995, there were more than 100,000 users and a development team of over 100.
This was a pivotal point for digital AEC. There were many computer design systems competing at the time, and while some were also transitioning from expensive mainframe platform to affordable PCs, the industries they served were mostly focused on manufacturing. MicroStation had a head start in the AEC space, becoming especially valued by state departments of transportation — still the standard for many today. Bentley, and third-party developers rapidly developed engineering design software and extensions for this platform and have continued unabated to the present day.
At one point, five Bentley brothers were involved in running the company. In 1991, the fifth Bentley brother had joined the company, Greg Bentley, who had successfully grown an unrelated software company. He joined to help with the business side. Keith continued as the chief of technology, Barry and Ray worked in development, Scott worked in operations (he would later go on to other pursuits), and Greg became CEO. Family, or private control of a company can have its advantages and foster great success. For example, look at Esri, one of the world's most successful geospatial industry firms. It was co-founded and continues to be helmed by Jack and Laura Dangermond. Being hobbled by a board, potentially beholding solely to the stockholders and bottom line, can stifle innovation.  But in many cases, going public can make sense, especially for a firm holding the potential to make a great impact on an industry, if they can garner the resources to act quickly.
Bentley Systems has worked hard to grow and promote their strong standing in the world of infrastructure.  Their annual conference and awards event, the Year in Infrastructure (YII), has been held in alternating years in places like London and Singapore — both centers-of-gravity in global infrastructure. YII 2020, originally planned for Vancouver Canada, has been virtualized, but as with past years, it will showcase some of the world's largest and most innovative infrastructure projects.  This reputation for software and solutions that can serve infrastructure projects, large and small, is well earned, but may only become sustainable if the trajectory of relentless development and innovation continues.
From concept to reality
The term "digital twins" might seem overused in the AEC space, a buzz term that has been a staple of conferences, webinars, and industry publications for many years. Bentley is all-in on this concept and has delivered for its customers. It has developed its solutions to work in digital twin environments and made acquisitions to bring in specific expertise. Like the 2018 acquisition of Agency 9, which has spawned OpenCities Planner.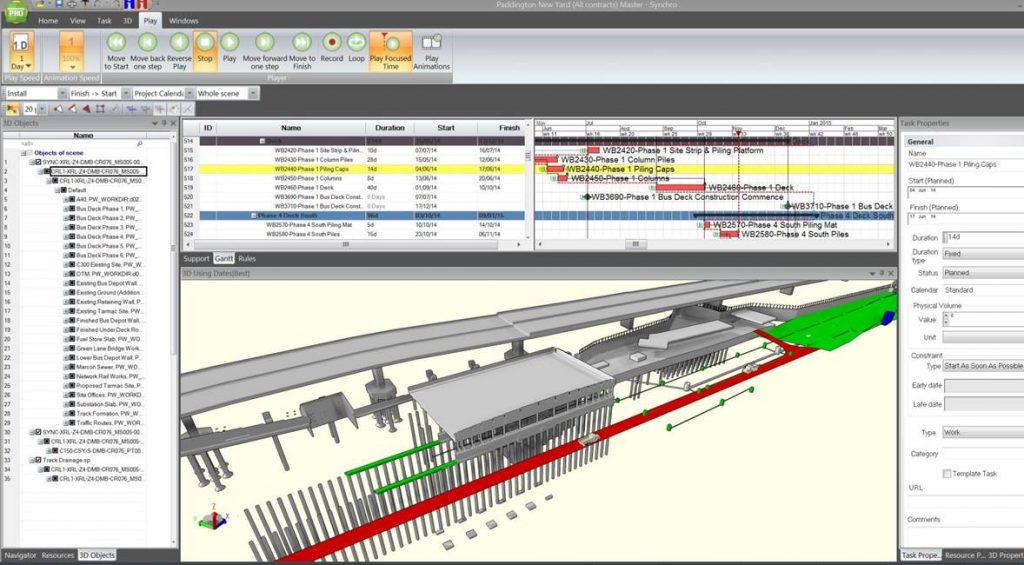 Another area of focus in development is virtual design and construction (VDC, 4D construction, et al). While Bentley was strong in the planning and design phases of the infrastructure life cycle, construction was next. Acquisition of SYNCHRO expanded Bentley's footprint in the construction phase as the foundation for a suite of tools for construction management. Full 3D models and collaboration in the Cloud are becoming the norm, and even immersive mixed reality environments like SYNCHRO XR for Microsoft HoloLens.
The other key area of development focus, championed by CTO Keith Bentley, is 3D models.  These are center of any digitalized AEC ecosystem. BIM, GeoBIM — whatever the term — the model is the key. The model holds not only the geometry, but also the attributes essential for construction management, and eventually operations: cost, scheduling, and as-built conditions. Bentley's iModel has been broadly adopted by its customers in the proprietary environment, but Keith took a further step of opening up iModel libraries to the open source community.
As the core of the whole digitalized environment, models are becoming so essential, and continued development such an imperative, that the end user constituencies can grow impatient with legacy development cycles. This was the case recently when a group of architects in the UK wrote an open letter to another design software firm complaining of slow development of Revit models. Bentley will need to continue, and perhaps accelerate the trajectory of iModel development — more reason for seeking the expanded resources an IPO could bring.
Construction is one of the world's largest single industries, yet one that has been very slow in digitalization and automation. Recognizing this, Bentley has joined with Topcon Positioning Systems, a construction hardware and solutions firm, in promoting "Constructioneering", a term coined by Greg Bentley. The concept of constuctioneering is to bring a seamless integration of the engineering processes, and the efficiencies this can enable, deeper into the construction phase. Also, in recognizing that in construction, general contractors and infrastructure owners might struggle with adopting these innovations, Bentley and Topcon announced a joint venture, at YII 2019, Digital Construction Works (DCW). It is an independent firm, helping AEC customers with digital transitions — and is not limited to products and solutions from the Bentley and Topcon portfolios.
The last phase of infrastructure lifecycles that needed further digitalization is operations, and again, strategic alliances with firms like Siemens fit the bill. Further collaboration with Microsoft, on adapting elements of Bentley's CONNECT environment, like ProjectWise and AssetWise to the Azure cloud environment, appear to close the loop. On that note, a keynote at YII2020 will be given by Microsoft CEO Satya Nadella. But there is still a lot of work to be done, continual development, and adapting to customers' needs, as broader segments of the industry go digital.
ALSO READ: Which are the most GEOBIM ready countries in the world?
Why an IPO?
The reason most given for going public is to raise capital for further expansion. There are no direct statements in press materials confirming this as the motivation, but in observing the speeches and writings of the "Brothers Bentley", their collective idealism, hopes for the industry, and desire to continually innovate, are strong indications that it is. Another reason often given to go IPO by firms that are in the position of Bentley — a well-established customer base and continuing success — is to give long time employees an opportunity to realize greater benefits of said success. Yet another reason for going IPO (and a trope of the dot-com/dot-bomb/dot-gone era was to promote a high concept, go IPO, and then "call in rich". The latter is most definitely not the case with the Bentley IPO.
I remember working in an engineering office in the 1980s on a large mainframe CAD system, and an engineer came by to show us his solution to enable work though a smaller, more cost-effective terminal. That bright young fellow was Keith Bentley, and he had a dream — and a practical vision — to improve the design process. And whatever this IPO offering brings, greater resources to invest in development, or a buy-out, Keith and his brothers should be able to continue realization of that vision.