Companies need a digital transformation approach that begins with the new value creation for the business, and data strategy where real-time business decisions can be powered by trusted data with maximum accuracy, consistency and context, underlines Eric Yau, COO, Precisely
Precisely has gone through an extensive rebranding process in the last one year. Why was this necessary and what has changed?
We felt it was the right time to rebrand the company given where we are in our evolution, now the global leader in data integrity with more customers than any other vendor in our space and unrivaled ability to deliver data that is accurate, consistent, and with context. We chose to rename the company Precisely, because it describes the value we bring to customers, versus a made-up combination of syllables.
The name Precisely accurately depicts what we do – our software products give customers trust in their data and enriches that data for greater context. Our new name states a unique mission; other companies are not centrally focused on data integrity, they can't help you across key domains like quality, location, and enrichment and this makes us different. Precisely represents our culture, the quality of our products, and the outcomes we can drive for our customers. 
ALSO READ: Vaccine distribution will be a logistical nightmare; how geospatial technologies can help
Precisely has been very focused on data quality and data integrity — why is it necessary for businesses? Is this to say the data available in the market is not to be trusted?
Global spending on digital transformation is expected to reach $1.3 trillion this year, so organizations must establish a foundation of trusted data to ensure these investments are successful. There's no doubt that data has changed the world. It has opened up new possibilities for products, services, and experiences to which companies, organizations, and governments can create differentiation in the digital economy. 
It's important to note that the lack of data integrity is a critical problem for businesses today– in fact, 84% of CEOs do not trust the data on which they base decisions and 68% of organizations are hindered by siloed data. 
How do you think the pandemic has changed customer behavior? Are some of these digital transformation here to stay even in a post COVID world?
Absolutely. Companies understand they must digitize or risk being disrupted by a digitally-enabled competitor, and the urgency has only been accelerated by the pandemic. Companies need a digital transformation approach that begins with the new value creation for the business, and data strategy where real-time business decisions can be powered by trusted data with maximum accuracy, consistency and context.
What are some of the trends you are seeing in terms of the evolution of the technology? 
The importance of data integrity is a trend not to be ignored over the coming years. I predict we will continue to see businesses doubling down on ensuring the quality and accuracy of their data. 
Leaders may understand the importance of accuracy and consistency of their data, but the critical dimension of context is what sets organizations apart. It's the final piece of the puzzle – that extra dimension that gives data its integrity, which enables business leaders to make confident and meaningful decisions based on the data they have in hand. 
We will also see the rise and importance of how technology and data will be leveraged in the fight against the Coronavirus. Location intelligence and data continue to play a critical role in making more insightful decisions before, during and after the pandemic.
ALSO READ: Past COVID challenges, AEC will be permanently digitized, says Autodesk CEO at AU 2020
How can industries take advantage of location intelligence to understand this changing customer behavior and rebuild businesses?
Location Intelligence plays a vital role in contact tracing and understanding the ways in which viruses and disease spread. Post pandemic, organizations will rely on Location Intelligence and data to better understand economic conditions, mitigate risk, and predict customer behaviors: for example, when looking at pedestrian traffic areas, in our new normal, data can help predict where retail activity will return and where it will not. Data can help to identify where we need to adjust our business activities to match how our customers will now consume our products and services, better enabling us to adjust our business activity to match what is likely to continue in this hybrid online-offline world. Leading organizations will use Location intelligence to predict economic conditions and better plan their recovery. 
What according to you are the major impact of the COVID on location intelligence industry?
Unpredictability has been the norm in the time of COVID-19. Location intelligence helps instill a sense of predictability in data in order to base better and more confident business decisions in the future. 
On the whole, we have been fortunate that the pandemic has accelerated businesses' digital transformations and thus increased their need for trusted data on which to build those initiatives. We've seen demand for some of our products dip as a result of the pandemic while others have increased. One example of this is our location intelligence products, which greatly assist in maximizing the effectiveness of contact tracing. 
Tell us about some of the recent innovations from Precisely.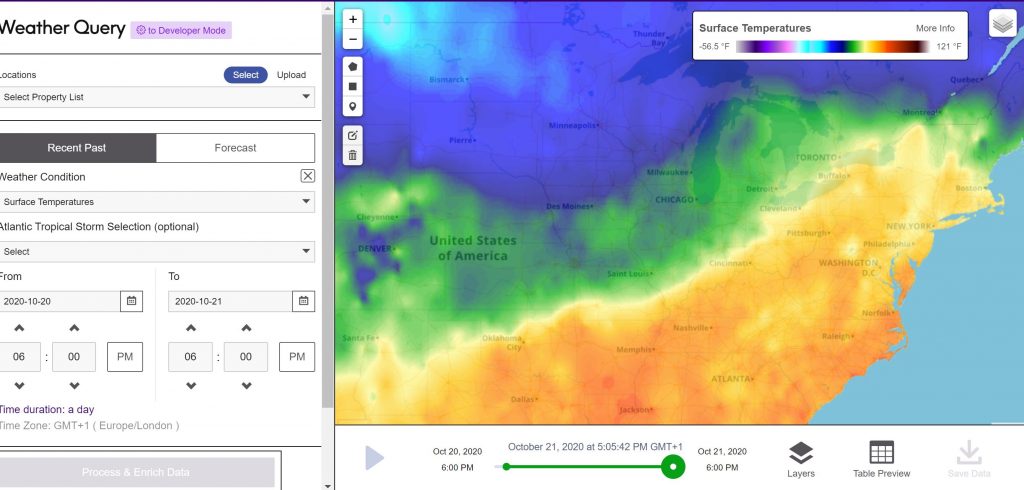 Earlier this month we unveiled Dynamic Weather — a new offering that provides users with historical, real-time, and forecasted weather data at a hyper-local level. The solution delivers weather information at specific locations by revealing patterns related to rainfall, hail, wind, temperature and more. Dynamic Weather has the ability to drill down to the minute of what is happening at a radius of just half a mile. This allows users to see how extreme weather conditions — like hail, wind, rain, or snow — impact specific properties or routes.
Do you see new business models evolving out of this disruption? 
Absolutely. Organizations will continue to demonstrate creativity in the new models created. Businesses have more dependency on utilizing the power of digital models to create new value and customer experiences. One evidence of this can be seen in the explosive growth of Cloud native platforms like ServiceNow, and Snowflake, the latter of which had the biggest software IPO in history during the pandemic.
ALSO READ: Johns Hopkins COVID Resource Center in TIME's list of best inventions of 2020
The pandemic has also made the debate around data privacy more forceful. While it is not a difficult choice when it is a choice between health and privacy, there is a fear that this will become the new normal. Your comments? 
Where we work, live, shop and play – in other words our "location data" can provide a tremendous amount of insight about who we are. So this data is very sensitive and should be protected. When used with our permission, it can be used to help protect us and others particularly in the age of a global pandemic. However, when it is used without our knowledge and/or permission, it can be used in a much more troubling way. It is critical that we all respect and abide with privacy laws, like GDPR, and use this information in responsible ways, only after we have received permission.