Temp
More accuracy in projects with AI-supported object classification from point clouds
The world is going digital at an unprecedented pace and 3D imaging is becoming an intrinsic part of planning, construction, and operation. Roland Degelmann is the Head of Unit "Digitization, Processes, OZG, BIM and GIS" at the Bavarian State Ministry of Housing, Building and Transport. He aptly shares "Today more than ever, digitalization is a driving force for technical, social and political developments in the areas of housing, construction and transportation. With the introduction of digital models and processes, the advantages of digitalization are combined with those of cooperative work processes in planning, construction and operation to increase quality as well as cost and schedule reliability."
3D point clouds, representing real-world objects, landscapes, and spaces, are enabling the stakeholders to make more informed and timely decisions. However, for effectively working with 3D point clouds, it is necessary to accurately read and identify their dimensions. Storing data as point clouds fosters unlimited possibilities in 3D modelling.
Point clouds are existent for a long time but they come in a very complex data format to extract information from. With the application of Artificial Intelligence (AI), they are taken to a new significant meaning. Advancements in the field of AI allow automatic recognition of objects such as buildings, vegetation, or ground in point clouds, thereby opening new possibilities for an automated and scalable area-wide evaluation of 3D data.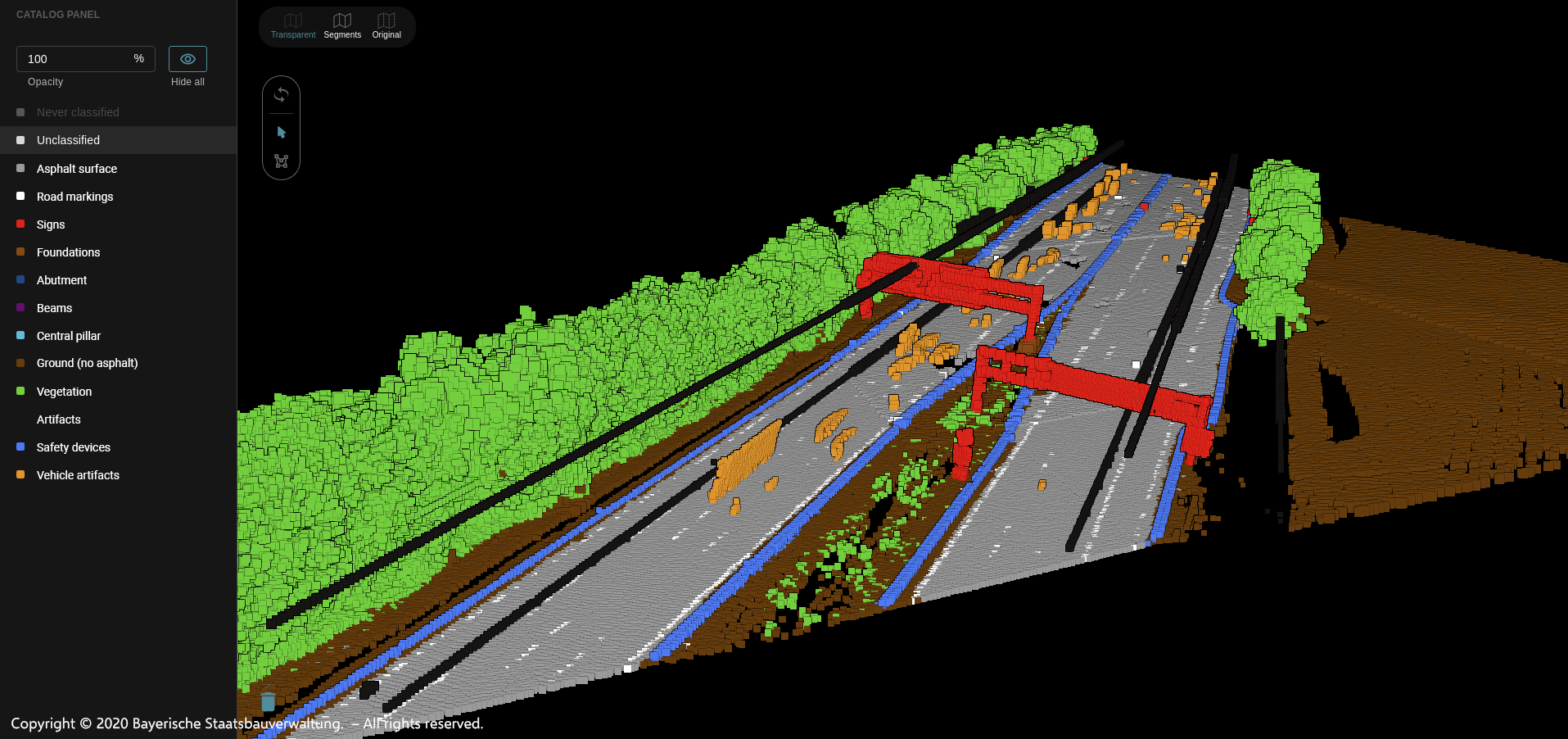 Pointly as a tool for AI-supported object classification from 3D point clouds
Solutions using AI techniques facilitate accelerated manual classification of data points within point clouds. One such innovation is Pointly, developed by Supper & Supper GmbH from Germany. Pointly is a SaaS solution allowing its users to manage and classify 3D point clouds with the help of AI. With Pointly, information from 3D point clouds can be extracted with minimal effort and high accuracy. Pointly enables the user to select large swathes of ground with one click and small objects like street signs with the next. The point clouds are available in their full resolution without compression. Due to smart segmentation and labeling, training data for deep learning models can be easily generated within a short time.
The software processes lidar, photogrammetric or otherwise generated point clouds in .las/.laz format and enables the users to manage and structure them. The data can be organized by feature classes, categorizations, lists and tags to make it valuable for further processing. Moreover, Pointly offers a range of features and tools accelerating the classification and management of point clouds in the cloud platform. Some of them are:
User-friendly interface, offering quick access to all functions thanks to its clear structure and intuitive design.
State-of-the-art 3D visualization, capable of displaying huge point clouds as well as smooth zooming and seamless changing of detail levels.
3 segment scales (coarse, medium, fine) adjusted to various point cloud types and resolutions.
3 different views, allowing the users to see the RGB information of the point cloud if it is present, to show the pre-processed segments generated by Pointly and to hide or highlight selected classes.
3 selection tools: the segment selector to quickly label a vast majority of the point cloud, the polygon lasso tool to select and classify points fast and precisely and a versatile 3D Bounding Box.
Pointly is built on Microsoft's fast and secure Azure Cloud Computing services, offering elastic and independently scalable processing of large amounts of data. The Azure's 256-bit AES encryption standard provides advanced protection of the data, whether in storage or in transit. The user's identity is managed through Azure B2C and protects the personal data.
In future, Pointly will be enhanced by more and more features and will become a user-friendly end-to-end platform solution to not only manage and label but also analyze big data from 3D point clouds. Moreover, automated classification for various classes will be available which once again accelerates and simplifies the classification work. With Pointly, diverse organizations and early adopters of 3D technologies can bring their digitalization strategy to success. It allows them to effectively manage all their digital 3D assets in one place. The areas of application are huge, as you can see in first Use Cases of Pointly Services. 
A Case in Point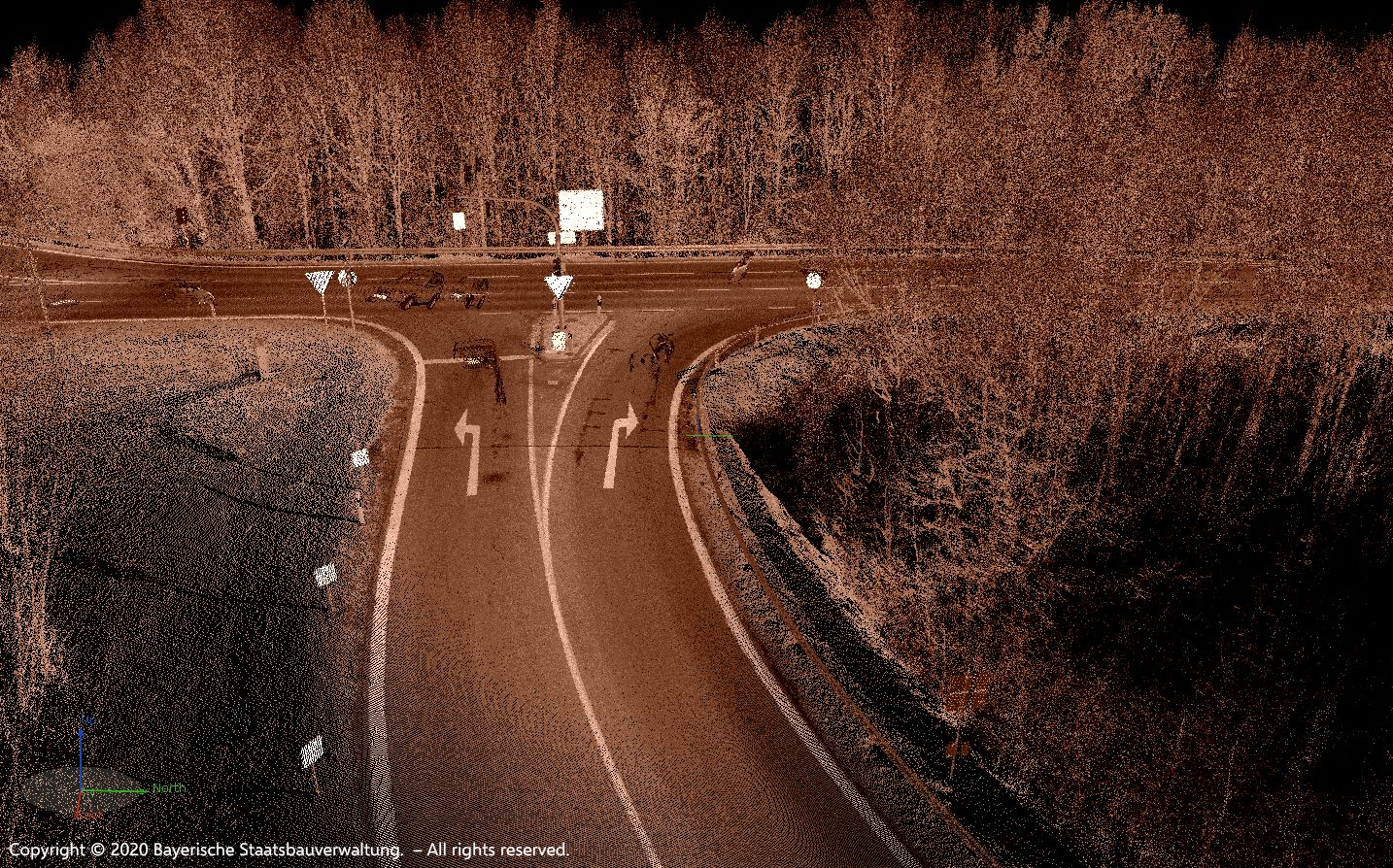 Next to Pointly, Supper & Supper GmbH offers Pointly Services which directly integrate with classified point clouds from Pointly allowing to use those as training data for automated classification models. In a recent infrastructure project Supper & Supper not only utilized Pointly but also Pointly Services to bring a lot of efficiency in enhancing it. Here three other parties were involved:
Bavarian State Ministry of Housing, Building and Transport (responsible for the concept)
Autobahndirektion Südbayern (owns the point clouds and results)
Cloud-Vermessung + Planung GmbH (provided the 3D laser scans)
The survey of the existing road network in Bavaria is carried out regularly and, on a case-by-case basis in the context of new construction, conversion and extension projects. The regular surveys of the condition of the road surface are carried out every four years, the comprehensive inspection of the civil engineering structures every six years. In both cases, additional investigations are carried out as required. The data is supplemented by information on existing and forecast traffic performance.
The manual evaluation and measurement of highways via 3D point cloud scans is a very complex, cost-intensive, and time-consuming activity. Frank Pöhlmann form Cloud-Vermessung + Planung GmbH: "This manual process ties up resources." It shall be automated with the help of AI. With this, analyses can be accelerated, and become scalable to very large amounts of data. In the long run, costs can be reduced considerably, and the effort can be minimized. To do this, the highways must first be precisely surveyed.
For that purpose, the Cloud-Vermessung + Planung GmbH uses the Trimble MX9's Measure Unit to survey sections of the A92 and A99 (Bavarian Highways) with MB V-class cars and generates high resolution LiDAR (light detection and ranging) scans. The recording of these scans produces large amounts of raw data, which currently must be evaluated manually at best semi-automatic.
How Pointly and Pointly Services will help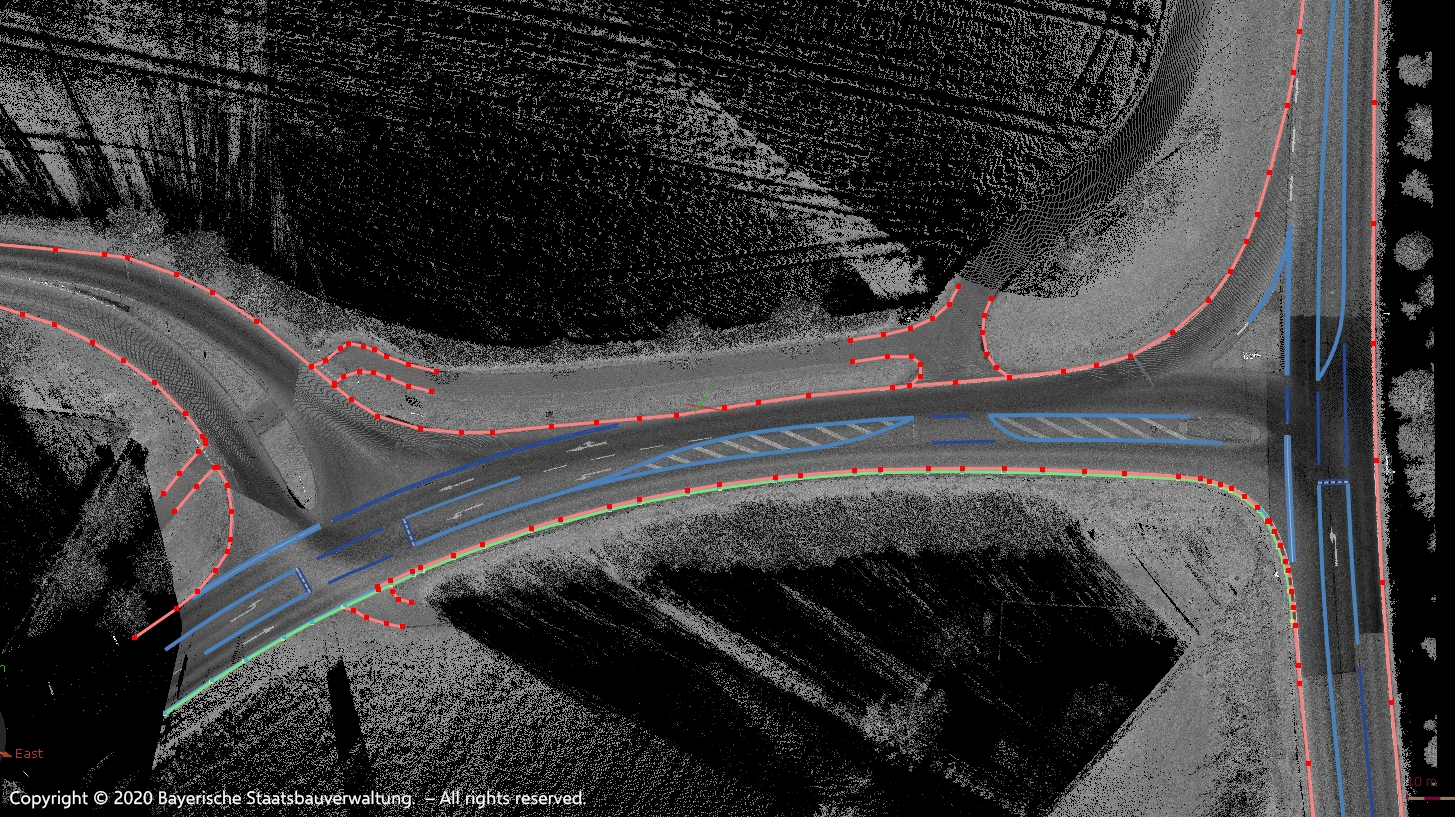 With Pointly Services, AI-supported automated object recognition and CAD model generation from laser scans of highways are realized in this project. The functionalities generated in this project will be implemented in Pointly and made available to the customer.
The datasets provided by the Cloud-Vermessung + Planung GmbH are labelled with the help of Pointly by inhouse employees. Object classes that are to be detected automatically later are: Roadway, road markings, vegetation, soil, foundations, pillars, bridge and protective structures. Next, a 3D neural network is trained to recognize these object classes reliably and to recognize them in new data. Each project phase requires its own further development of the CAD export rule sets and adaptation of the pre-processing to be able to detect edges reliably.
By automating the manual information extraction of highways, overpasses, and other building structures along the highway it will be possible to measure much larger road sections in a fraction of the time in the future. By automating the process, human error is also minimized.
As Mr. Degelmann points out, "Comprehensive knowledge of the existing road infrastructure is an essential basis for planning, construction and utilization processes. In addition to the classical surveying of the corresponding infrastructure objects, which is associated with a high expenditure of time, kinematic 3D surveys by laser scanning are increasingly used. The derivation of the required CAD objects from these point clouds has so far been carried out in a downstream manual process, which, like the acquisition of data, is regularly performed by external service providers, and is associated with high time and cost expenditures. In a pilot project, the possibility of automated object derivation from laser scan point clouds using methods of AI were investigated. The automated, AI-supported derivation of infrastructure objects from laser scan point clouds enables an enormous increase in efficiency and cost reduction for the inventory of road infrastructure. The medium to long-term goal is the immediate determination of BIM-defined objects."
The primary benefit of the project is timely determination of the state of infrastructure inventory to provide faster and more accurate information, especially for project planning. The three-dimensional recording of the entire area and the combination of this data with image information as well as planning data leads to a better visualization of what those involved and affected expect from the respective measure.
This is just one case in point. Pointly & Pointly Services can generate extensive competitive advantages for several industries.