The Senate Commerce Committee has approved a bill that formally authorizes the Department of Commerce as in charge of space traffic management. The bill, which was passed by the committee with no debates on November 18, has to be passed by the full Senate, and may still face hurdles in Congress to get a passage by this year.
On October 21, Sen. Roger Wicker (R-Miss), introduced the Space Preservation and Conjunction Emergency (SPACE) Act that codifies Space Policy Directive-3 (SPD-3) for transferring the responsibility from Department of Defense (DoD) to the Department of Commerce (DOC).

The version of the bill cleared differs from the one introduced by Wicker, which had sought to elevate the Office of Space Commerce from an office within the National Oceanic and Atmospheric Administration (NOAA) to a Bureau led by an assistant secretary reporting directly to the Secretary of Commerce, arguing such an elevation to bureau level will give the department more authority and higher visibility.
However, the new version includes a "sense of Congress" section, stating that "elevating the Office of Space Commerce within the Department of Commerce may enhance the ability of the Office of Space Commerce to promote space safety through future21 space situational awareness and space traffic management efforts; and to coordinate with other Federal agencies and foreign entities."
ALSO READ: How many satellites orbit Earth and why space traffic management is crucial
The revised version also includes a section calling for creation of "Centers of Excellence for Space Situational Awareness" led by universities or nonprofit organizations to conduct transdisciplinary research, development, and demonstration projects related to detection and tracking of space objects, modeling, and minimizing space safety, security, and sustainability risks to improve space situational awareness and the development of open-architecture resources for improved space safety, security, and sustain ability.
The background
The Trump Administration had issued SPD-3, the National Space Traffic Management Policy, in  June last year, shifting the responsibility for providing SSA data to satellite operators from DoD to DOC. However, Congress is yet to codify it in law or provide necessary budget. In August, a Congress-commissioned panel under the National Academy of Public Administration (NAPA) reaffirmed that the Office of Space Commerce at the Department of Commerce was the best suited civil agency to perform such tasks. The report, urged Congress to immediately enact the authorities and appropriations required for OSC to carry out this critical mission.
SSA data is used to inform satellite operators of potential conjunctions or collisions with another passing satellite or piece of debris, allowing operators to maneuver if possible. DoD currently provides SSA services and issues collision warnings to satellite operators around the world. Under this directive, these responsibilities would be transferred to DOC.
Why Space debris is a concern
The growing number of space objects, either operating satellites or space debris, is becoming worrisome especially in low Earth orbit. ESA estimates the total number of Space objects in Earth orbit around 29,000 for sizes larger than 10 cm, 670,000 for sizes larger than 1 cm and more than 170 million for sizes larger than 1 mm!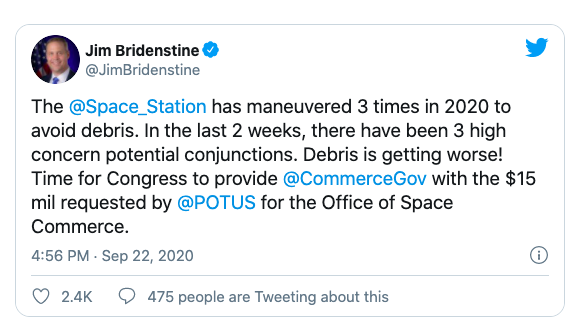 The International Space Station (ISS) had to carry out an emergency avoidance maneuver on September 22 – the third time this year — to avoid a potential collision with an "unidentified object". The incident saw NASA chief Jim Bridenstine tweeting his frustration while making a case for space traffic management. "The Space Station has maneuvered 3 times in 2020 to avoid debris. In the last 2 weeks, there have been 3 high concern potential conjunctions. Debris is getting worse! Time for Congress to provide @CommerceGov with the $15 mil requested by ‪@POTUS for the Office of Space Commerce," Bridenstine had tweeted.