The GEOBIM 2020 virtual conference, a unique platform bringing together stakeholders from the architecture, engineering and construction (AEC) community began 3rd December from Thursday and will conclude on Friday, 4th December 202O. The conference which brings together multi-disciplinary stakeholders from across the global AEC community includes discussions and deliberations to enable digital transformation in the sector. The conference which speaks of innovative digital technologies, including geospatial technologies, BIM, Digital Twins, 4IR technologies and manufacturing technologies such as prefabrication and off-site construction – reinforces the need for data-driven processes, collaboration, harmonization of data, data interoperability, and standards to resolve the perpetual challenges faced by the AEC industry.
If the pandemic has done anything – it has left a significant trail of disruptions across AEC industry, its supply chain, and productivity leading to AEC stakeholder's increasing recognition for the need of digital and specific construction technology solutions. In its 7th edition, the first day of the GEOBIM 2020 conference covered interesting topics with respect to the need and necessity of using GEOBIM for resilient infrastructure in post COVID-era.

Remko Lugten, Director – Europe, Geospatial Media and Communications opened the conference, by duly acknowledging "The need for digitalization, and Contech solutions, has been acknowledged by built multi-disciplinary stakeholders in the construction industry, sustainability in building lifecycle management has grown in priority for both building, and infrastructure assets. Stakeholders in the construction sector are realizing the importance of GEOBIM solutions in sustainable asset management for economic and ecological benefits."
Following Remko's note, Prof. Gong Ke, President, World Federation of Engineering Organization (WFEO), gave the keynote address on building a future of sustainability for the built environment using geospatial and engineering solutions. Prof. Gong Ke provided a detailed introduction on the sustainable development goals specifying the importance of science and technology and urban development in today's economy and society. In brief, Prof Gong Ke, presented the white paper jointly developed by WFEO, WGIC and UNGGIM on using integrated geospatial and BIM solutions to meet the United Nations' SDG goals. "It is important to demonstrate how the lever of science and engineering, including geospatial technologies, geospatial engineering and big Earth data can be used in urban and peri-urban development to accelerate sustainable development", said Prof. Gong Ke while presenting the white-paper.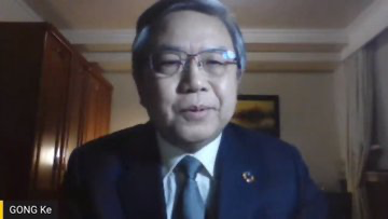 Prof. Gong Ke also informed the attendees of the Big Earth Data project which is aimed at setting up an International Science Centre for Big Data. He stressed that there is an increasing need for supporting the development of big data infrastructure to develop a system which drives advancements in technology research, innovation and provides for an enabling platform for decision making support systems.
GEOBIM for Resilient Infrastructure in Post-Covid AEC Industry
Following Prof. Gong Ke's presentation, Ananya Narain, Deputy Director, AEC and Market & Economy, Geospatial Media hosted the first plenary session, Navigating AEC Industry with Digital Technologies in post-COVID Era. Anne Kemp, Atkins, UK; Menno De Jonge, Royal BAM Group, Netherlands and Ronan Collins, Gamuda Berhad, Malaysia discussed the primary drivers of digital transformation to overcome pandemic induced challenges, the importance of national digital twins and a BIM framework in the AEC industry; and how COVID has inadvertently accelerated the digitalization in the construction project lifecycle across the globe. The panel also discussed the digital transformation levels in two parts of the world; and the role of legislations to ensure digitalization.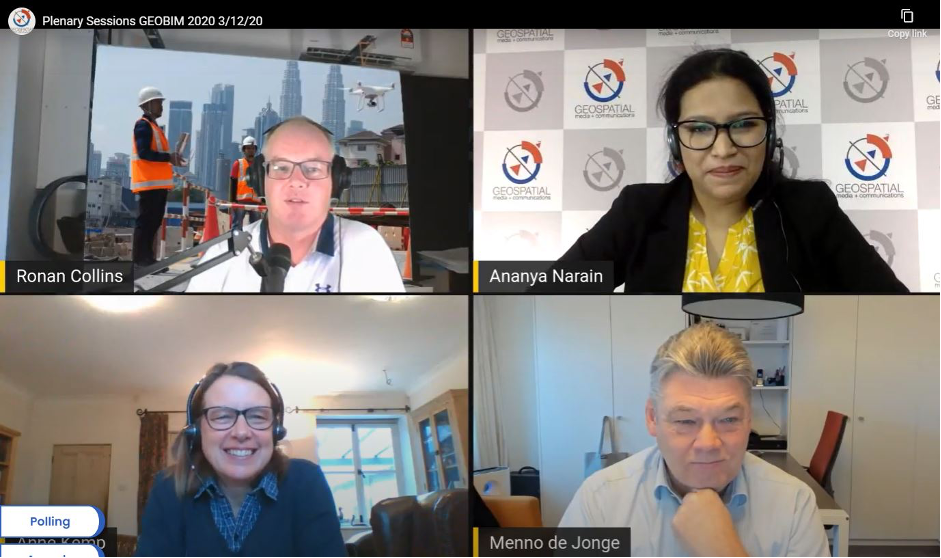 Anne Kemp, stressed on the importance of digital technologies, "People are really starting to understand just how important it is to move into a digital way of working. No more can we really afford this attitude of virtual coordination -it is just too hard." Menno too stressed on the importance of people's intent in transforming to digital, asking people to focus more on themselves and not on technology. He stressed – people tend to focus on technology and that is why digital transformation becomes hard. His suggestion to the larger AEC ecosystem is to look at the best case studies, attend conferences such as GEOBIM, and 'take small and baby steps.'
Anne also stressed on Mindfulness in Action. As part of her presentation, she highlighted the on-going work in the UK on the integrated digital project delivery, the UK BIM Framework and the National Digital Twin (Gemini Principles). Anne also stressed on the importance of using geospatial data in digital twin models and the benefits it brings to society, economy, and the environment. Stating in her presentation, Anne, concluded, "GEOBIM has become even more important during the COVID crisis, and the divide between what was GIS and BIM is now becoming academic."
Menno, on the other hand, stated that to navigate through COVID-19 in the AEC industry, it is imperative to transform the built environment in the design and in construction phases. Menno highlighted the use of digital technologies in particular immersive solutions such as Augmented Reality and Virtual Reality, Artificial Intelligence and modular construction methods in the primary and secondary processes of Royal BAM Group. Menno reaffirmed the need for adopting mobile and cloud computing platforms for identifying and defining primary and secondary processes for short-term and long-term effects; new technologies such as robotics, manufacturing and prefabrication is the way forward, he added.
Ronan from Malaysia showcased brilliant examples of handphones and drones and other reality capture solutions used by Gamud Berhad in their construction project sites during COVID. Ronan concluded his talk with what ideally defines the entire digital transformation process – "The key is to look for a problem and then find the solution, instead of the other way round."
Digital Twins, GIS and BIM Integration workshop with Esri, Automation, Mechanization, and Offsite Construction – DfMA were also the other sessions which were held on the first day. The first day of the conference concluded with GEOBIM 2020 Awards. More details on who won can be found here: GEOBIM 2020 Awards – Recognize Exemplary Construction 4.0 Practices.