Investigative reporting is dangerous. Powerful organizations go to great lengths to protect their secrets and journalists are often required to travel to high-risk conflict zones. According to Reporters Without Borders, 941 journalists have been killed over the past 10 years, with the large majority killed in war zones. It makes sense that journalists would use every technology available to protect themselves. Including satellite imagery. This not only puts some distance between journalists and conflict zones but also offers an unbiased source of information and even allows comparisons of images over time to detect change.
For example, detresfa_, an open-source intelligence expert recently used high-resolution satellite imagery acquired through ShadowBreak Intl, an intelligence company specializing in providing easy access to satellite data, to detect the expansion of a Chinese Airbase located a mere 200 km away from a notable conflict zone between China and India.
The use of satellite data analysis is not limited to conflict reporting. A number of NGOs and governments rely on these datasets to gather otherwise hard-to-obtain evidence. SkyTruth, a conservation nonprofit, uses satellites to monitor under-reporting of oil leaks by oil companies, while TankerTracker tracks and reports shipments and storage of crude oil in several geographical and geopolitical points of interest. Last year, the United States president, Donald Trump, tweeted a picture of a launchpad failure in a rocket launch facility in Iran taken by what expert satellite tracker Dr. Marco Langbroek and New York Times visual investigator Christiaan Triebert assumed to be a KH-11 U.S. spy satellite.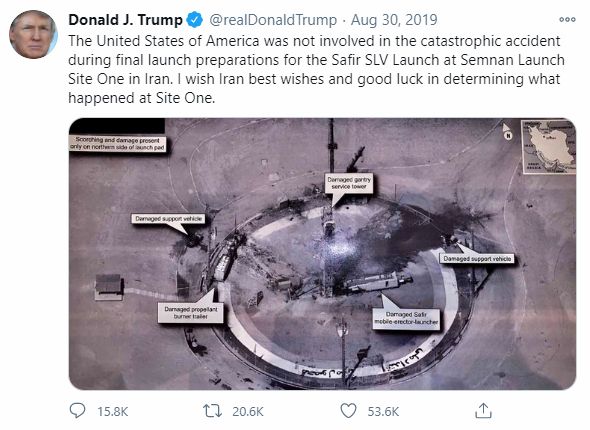 While these previously hard-to-obtain images are becoming more widely available, thanks to an increase in competition in the sector and plummeting satellite data prices, imagery is only as useful as the analytics skills of the reporter. "Getting access to imagery is only half the battle, noted Samuel Cardillo, CEO and Founder of ShadowBreak Intl. Our platform ReconLink provides you with near-instantaneous access to high-resolution imagery from some of the largest providers in the world, such as Airbus and Maxar, as well as some lesser-known datasets. But, by integrating these images into our platform TacSight, users can pull from a large database of military assets and intelligence to help them understand what they are seeing, collaborate with other analysts in real-time, and easily share their findings between departments."
Also read: The future of the commercial satellite imagery business model
Being able to translate imagery into insights is no easy feat. Especially for journalists with no previous experience with geospatial imagery. Geospatial World previously covered the topic in their Beginner Guide to Satellite Imagery for Journalism, and more recently in a longer, more in-depth article: Taking Journalism to New Orbits. Several associations of journalists are also offering resources for reporters interested in using these datasets, including the famous Global Investigative Journalism Network who compiled an extensive resource list, and Bellingcat, recently named Open Source Intelligence Champion of the year. Journalists can also rely on a large network of satellite imagery experts that frequently share their findings on social media sites, like AuroraIntel or OBS_IL.
In recent years, we have seen a number of uses of satellites by journalists, including determining the veracity of videos shared on social media by using the background to determine where and when the video was taken and cross-examining the findings with the video claims, and using buildings and other background objects to geo-locate where a picture was taken, as described by Benjamin S., OSINT and Geospatial trainer. Other classic uses include object detection, such as spotting fighter jets in military airports next to disputed islands and new naval vessels appearing in an Iranian military base, and change detection, such as new barracks constructions, as H I Sutton explained in Forbes.
As journalists become more proficient with these datasets, we can expect new analysis to emerge, especially as data providers often share high-resolution images for free in exchange for publicity. A few weeks after the infamous Trump tweet, Planet, the satellite company was quick to publish an image of a drone strike at a major Saudi Arabian oil facility that temporarily reduced Saudi oil production by half. Which was then picked up by several news organizations around the globe.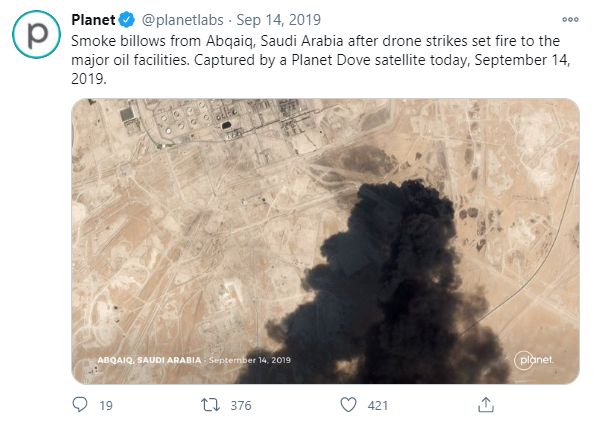 "We have made it our purpose to support innovative companies such as ShadowBreak who make it easier for analysts to access Airbus' geospatial imagery and derive insights from our extended and daily updated archive. We are particularly excited to see how investigative reporters are able to unlock capabilities that were previously reserved for the Intelligence Departments to help shed light on what is happening across the world, whether it is related to defense, the environment or the economy" explained Martin Pentier, Channel Partner Manager, Intelligence, from Airbus Defense and Space.
This is great news for open journalism and the geospatial industry. Governments, researchers, and the military have traditionally been the primary buyers of satellite imagery. But technologically-inclined journalists and intelligence experts sharing new and exciting satellite data use cases with a greater audience is likely to increase demand for these datasets from the private sector. Which in turn will spurn innovation in the sector, making it even easier for analysts to access these datasets in the future.
Also read: Global impact of COVID-19 on satellite data services market