Facebook has hit out at Apple again over the latter's firm stand on user data privacy, saying the move will hurt small businesses. The social media giant took out ads in major dailies — The New York Times, The Wall Street Journal, The Washington Post among others – with the headline: "We're standing up to Apple for small businesses everywhere."
The long full page ad criticizes the upcoming privacy feature in iOS that will allow Apple users to opt out of letting apps track their activity for advertising purposes.
This comes just two days after Apple released another privacy feature for users — privacy labels in the App Store —  which will allow users to see just what personal information is collected by an app's developer once if they choose to download an app. Last week, while delivering his virtual keynote the European Data Protection and Privacy Conference, Apple's Vice President of Software Engineering Craig Federighi said told developers "who fail to meet the standard can have their apps taken down from the app store".
ALSO READ: 'Aww, poor baby, Facebook', and Google's 'Oh sh**' moments!
Two days back, the Federal Trade Commission had pulled up some of the biggest social media and video streaming players in the world and launched a probe into their user privacy and data practices. In an order issued on December 14, the Commission directed Facebook, WhatsApp, Snap, Twitter, YouTube, ByteDance, Twitch, Reddit, and Discord to share a long list of information – including how many users these companies have, how active the users are, what the companies know about them, how they got that information, and what steps they take to continue to engage users.
Not the first time
This is the second time recently Facebook has come out so strongly against Apple – the last time was in August it had posted multiple blogs expressing its displeasure squarely blaming Apple for hurting "many of our developers and publishers at an already difficult time for businesses". At that time it had also claimed it won't collect user data on its own apps on iOS 14 devices, while reminding its users they had a "choice" about how their data was used on Facebook.
"Many in the small business community have shared concerns about Apple's forced software update, which will limit businesses' ability to run personalized ads and reach their customers effectively," the Facebook ad reads. "While limiting how personalized ads can be used does impact larger companies like us, these changes will be devastating to small businesses."
ALSO READ: How people moved around in US during the pandemic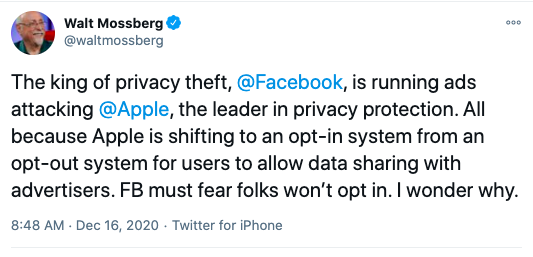 The ad drew ridicule and criticism from all quarters, with Walt Mossberg, Former Executive Editor, The Verge, tweeting, "The king of privacy theft,  @Facebook, is running ads attacking @Apple, the leader in privacy protection. All because Apple is shifting to an opt-in system from an opt-out system for users to allow data sharing with advertisers. FB must fear folks won't opt in. I wonder why."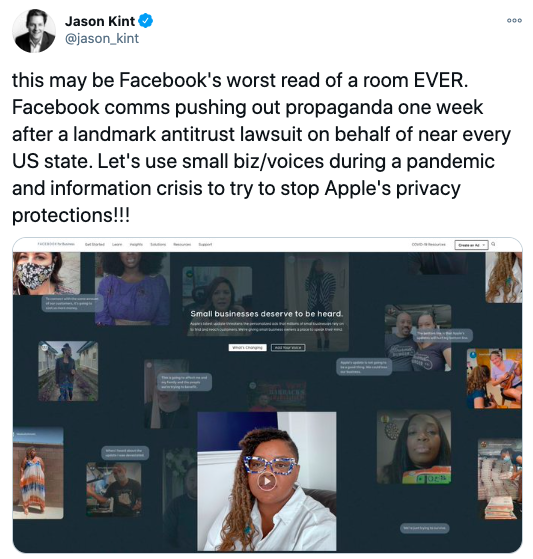 "This may be Facebook's worst read of a room EVER. Facebook comms pushing out propaganda one week after a landmark antitrust lawsuit on behalf of near every US state. Let's use small biz/voices during a pandemic and information crisis to try to stop Apple's privacy protections!!", tweeted Jason Kint, CEO of Digital Content Next .
"But perhaps the most memorable part of Facebook's privacy label detail page is how long it is," CNBC said. "[O]n the phone, it takes up several screens. It leaves a very strong impression that Facebook is collecting a massive hoard of data about its billions of users."
In November 2019, Amnesty International had come out with a report accusing Facebook and Google of running a "surveillance-based business model" that is "undermining the very essence of the right to privacy" and "threat to people's rights, including freedom of expression and opinion, freedom of thought, and the right to equality and non-discrimination"