When Santa Claus performs a ceremonial fly-by of the International Space Station on December 24, there will be advanced geospatial technology guiding his travel route. Philadelphia-based geospatial software company Cesium has just announced it will join the North American Aerospace Defense Command (NORAD) and other partners to in their efforts to honor the 20th anniversary of continuous life on the ISS, a milestone achieved in November. Santa's sleigh will now join Northrop Grumman's Cygnus, SpaceX's Dragon, JAXA's HTV, and the Russian Progress on the short list of cargo spacecraft that deliver "presents" to the ISS.
"Part of the magic behind Santa's journey is actually cutting-edge 3D geospatial technology," says Patrick Cozzi, Cesium's CEO. "By creating precise Digital Twins of the Earth with Cesium, we can understand the operations of smart cities, measure piles of soil on construction sites from thousands of miles away, and even track the location of Santa's sleigh in real-time as he travels around the globe."

"Cesium is rooted in aerospace, so it's especially meaningful to us that our technology will allow millions of people to enjoy this event in real-time from the safety of their homes," he added.
Though purely fun, the initiative is a classic example that illustrates the value of combining 3D geospatial data and computer graphics for planning, visualizing, and tracking the ever-increasing amount of human activity in space.
ALSO READ: How to utilize BIM & VR Technology to improve client experience
What's different with NORAD Santa Tracker this year?
Every year, the official NORAD Santa Tracker at NoradSanta.Org enables users to track Santa's journey all day on December 24. What is new this year is by zooming in on the 3D Santa Tracker app, users can see the ISS orbit Earth at its exact real-time location in the digital world built by Cesium.
There are interesting additions to Santa's traditional garb – a face mask and a space helmet!
"The NORAD Tracks Santa app really highlights the flexibility of the Cesium platform," says Hannah Pinkos, lead developer of the app. Each year, she takes on a special project on how to make Santa's annual journey special by unique designs and features across the Cesium platform.
"The ISS is a spectacular example of what humans can accomplish when we work together," said Pinkos. "2020 has been a tough year, but I think this special trip is Santa's way of reminding us to believe in ourselves."
Cesium was behind the 3D geospatial platform that powers the Tracker way back since 2012, when it was still a part of aerospace software company and fellow NORAD Tracks Santa partner, AGI, an Ansys Company. It became independent in 2019, and the platform is now used across industries to build applications that make use of 3D location data collected from sensors like satellites and drones.
How the NORAD Santa Tracker works?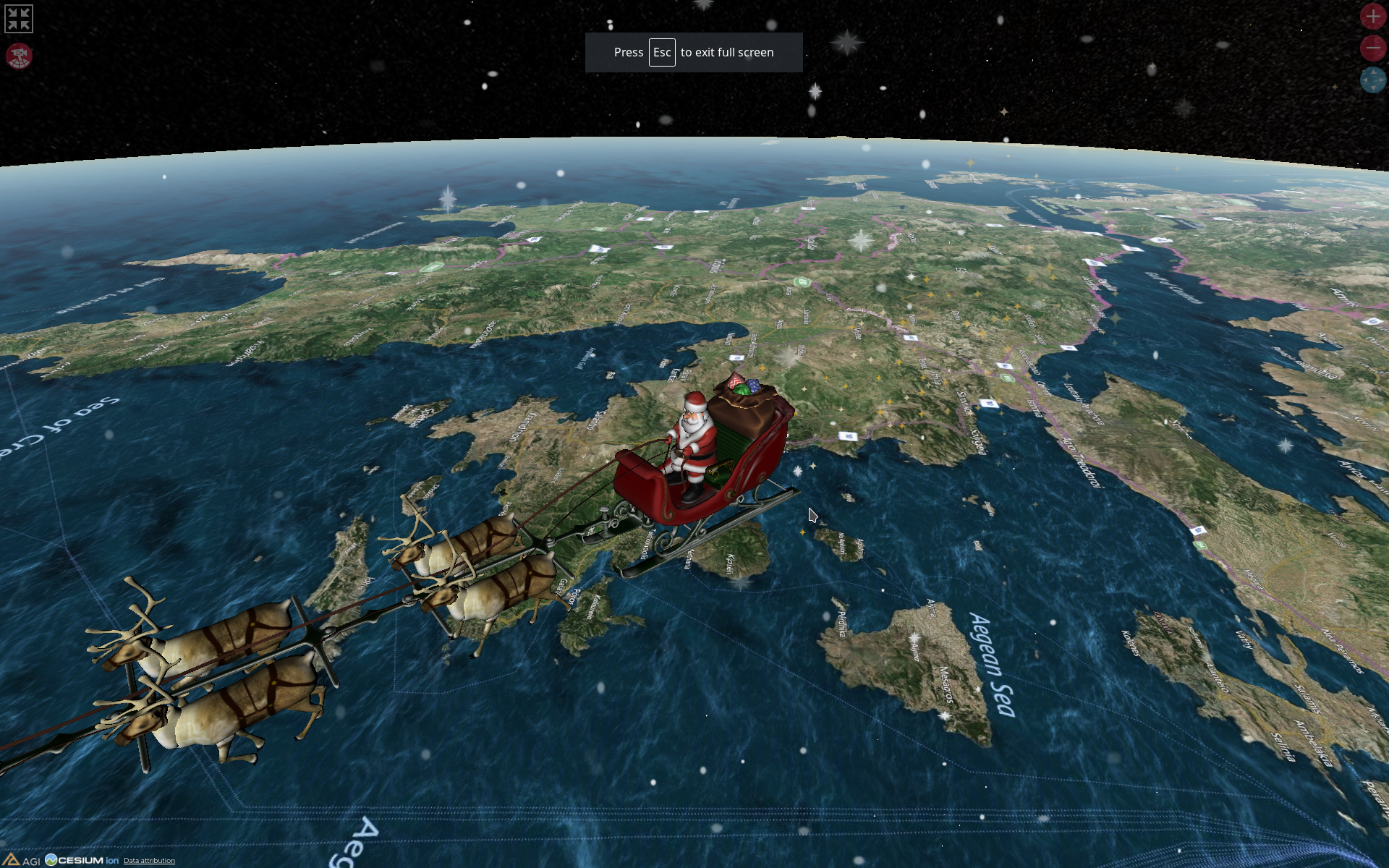 Every year, NORAD — a United States and Canada bi-national organization that conducts aerospace warning, aerospace control and maritime warning by tracking objects flying in and around the airspace using radar, satellites and fighter jets — joins corporate partners in taking on a special mission to also track Santa's sleigh.
The NORAD data is then laid on top of Cesium's highly precise virtual globe comprising 3D terrain and satellite imagery that accurately reflects the light from the sun and the position of the stars. The virtual model of the Earth, 3D location data, and a 3D model of Santa's sleigh is then combined with special effects like digital snow. The result is for millions around the world see as they eagerly follow Santa's trip around the world in real time.
This year will be the 65th anniversary of 'The NORAD Tracks Santa' program, which began in 1955 with a misprint of Santa's phone number in a department store advertisement. Although the program's hotline still operates — one can call 1-877-HI-NORAD for updates – over the years, the technology has continued to evolve.