Annual TomTom Traffic Index finds the world's traffic congestion declined by 19% in 2020. While this insight focus on the shift in the mindset of people and businesses, it has brought the policymakers and analysts on a crossroads to decide the directions that will shape the world tomorrow.
Traffic congestions are not only commuters' nightmare but are also a cause for concern for the policymakers. According to the World Economic Forum, in 2018, the US economy had to bear losses worth $87 billion caused by traffic congestion. Similarly, in 2019, UK road users lost 115 hours in congestion leading to a loss of $8.37 billion to the economy.     
Experts opine that this global phenomenon results because the existing roadways cannot accommodate the increasing number of automobiles, and lack of inefficient traffic system.
While the scenario in terms of traffic congestion in the last few years has been horrific, in 2020, the movement of traffic changed drastically due to the restrictions imposed by governments around the globe. According to TomTom Traffic Index, around 400 cities across the world accounted for an average of 21% decrease in traffic congestion in 2020. This traffic congestion data is a noticeable indicator of decrease in people's movement, economic activities and global trade across the year. The index ranked Moscow, Russia as the congested city (54%), Mumbai, India (53%), on the second and Bogota in Columbia (53%) as the third. 
The results of the Index emphasizes on how the global pandemic changed the mobility ways and mindset of the people. The report detailing the traffic situation in 2020 also highlights the decrease in congestion levels from 2019. 387 cities noticed a decrease in traffic and 13 cities reported traffic increase since last year.
Also read: GPS-based tolling system to eliminate traffic jams on Indian highways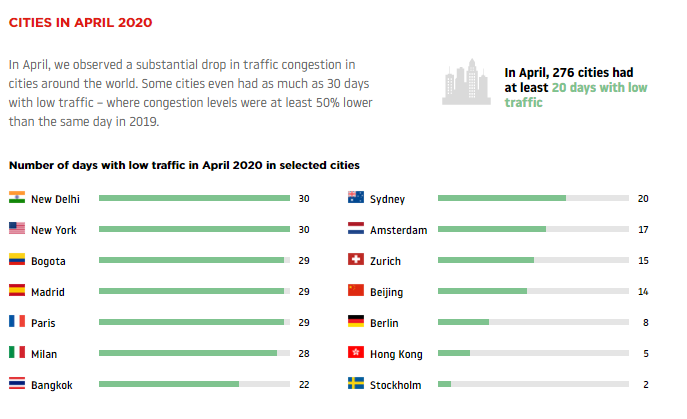 How is this data relevant?
While TomTom uses Geomarketing or GIS analytics, its location data helps policymakers and businesses make informed decisions through global map coverage. The congestion level percentage of a city is calculated through extra time travel a driver experiences compared to an uncongested situation. The baseline per-city is analyzed through the free-flow of travel time of all vehicles on the entire road network, recorded all-around the year. TomTom's navigation software through its real-time information of drivers collects the data of traffic congestion globally. This data is used by analysts, corporations, and media, and highlights a shift in mobility, which can take a new path towards a cleaner and congestion-free future.     
Ralf-Peter Schäfer, TomTom's Vice President of Traffic and Travel, said: "Last year, we announced that global congestion levels in 2019 had increased for the ninth consecutive Traffic Index. In 2020, we saw a vastly different picture. From lockdowns to closed borders, people movement changed – and it changed very fast."
"Although traffic congestion was down in 2020, it's not going to become a trend unless we take action. We might even see traffic levels shoot up again as people get back to work and back into old routines. That's why now is the time that city planners, policymakers, employers – and drivers – must take stock of what they will do to make the roads less congested in the future," added Schafer.  
Also read: Digital Maps to hold the future of smart cities, autonomous cars, and much more 
Way forward
While the information from TomTom's Traffic Index highlights a huge decline in traffic congestion globally, it also asks whether the changes we saw during 2020, are here to stay or soon forgotten. The year has led to several significant changes including work from home and flexible work hours, mindful travel choices, reduced emissions, and a climate-neutral planet. But nevertheless, COVID-19 has shifted the mobility behavior and choices that policymakers have been discussing for years, including telecommuting as a potential solution for traffic congestion; active transportation modes, and electric vehicles. With hybrid work models and technology, people have received the power to make an informed choice of their commute which can lead to a sustainable environment.
But the onus of rational implementation is still on governments and policymakers which are on a crossroads to decide the directions that will shape the world tomorrow. 
Also read: No more GPS hassles for autonomous vehicles?