Global Navigation Satellite System (GNSS) has become ubiquitous. While critical infrastructures such as defense, utilities, communications, emergency services, finance, and transport (road, air, maritime, and rail) rely on GNSS, in Space, spacecraft use these signals to determine their location, velocity, and time, which is vital to mission operations.
Under its Space Communications and Navigation (SCaN) program, NASA is developing a navigation architecture, which will provide precise and reliable Position, Navigation, and Timing (PNT) data for the Artemis missions. GNSS signals will be a part of this architecture. Under this, missions at high altitudes will be able to take advantage of GNSS signals. GNSS use in the high-Earth orbit and lunar space will not only improve timing, enable accurate and responsive maneuvers and reduce costs, but will also allow autonomous, on-board orbit and trajectory determination.
Also read: NASA, FAA reaffirm ties to advance US leadership in commercial space transportation
Currently, six GNSS constellations are providing PNT services. These constellations are operated by the US (GPS), the European Union (Galileo), Russia (GLONASS), China (BeiDou), India (IRNSS), and Japan (QZSS). The interoperability of constellations will play a crucial role in the SCaN program. On the other hand, using multiple constellations offers more signal availability, thus, providing improved navigation accuracy and timing for satellites. This will be helpful for spacecraft at higher altitudes where GNSS signals are less numerous. However, using multiple constellations has its challenges as each constellation has unique designs. And to overcome such challenges, SCaN supports several flight experiments that will help develop multi-GNSS capabilities for spacecraft.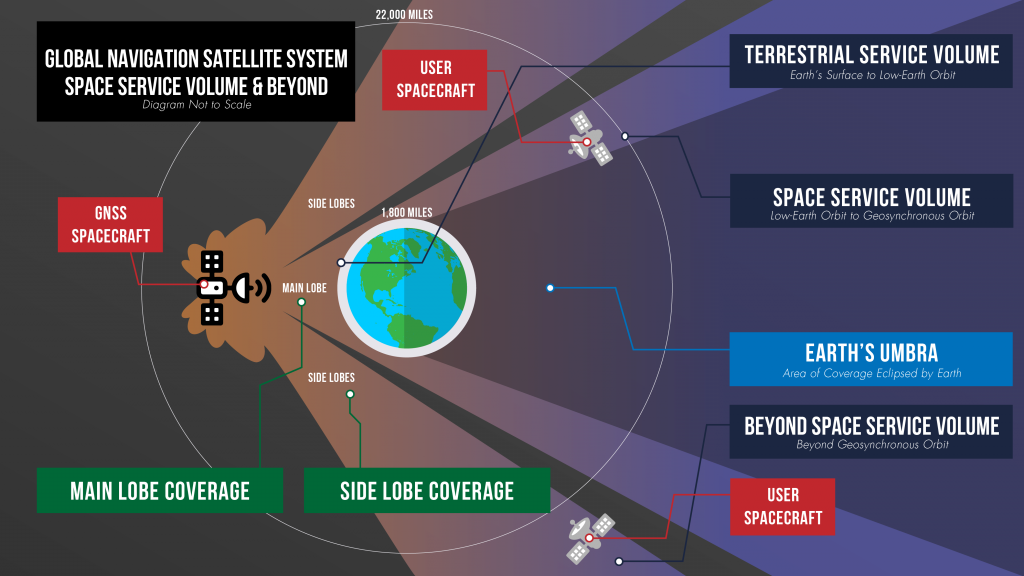 Bobcat-1
Bobcat-1, developed by NASA's Glenn Research Center and Ohio University, was selected by the CubeSat Launch Initiative in 2018 to study GNSS signals. Released on 5 November 2020 by International Space Station, the CubeSat will orbit for about nine months, measuring signals from different GNSS constellations. SCaN will use these measurements to get a better understanding of GNSS performance, explicitly focusing on timekeeping variations between the constellations.
LuGRE
In partnership with the Italian Space Agency, NASA is also working on the Lunar GNSS Receiver Experiment (LuGRE). NASA plans to land LuGRE on the moon in 2023. LuGRE is expected to obtain the first GNSS fix on the lunar surface; it will receive signals from both GPS and Galileo. NASA navigation engineers have been simulating GNSS signal availability near the moon. Their study indicates that these GNSS signals can play a critical role in NASA's ambitious lunar exploration initiatives, providing unprecedented accuracy and precision.
Also read: GNSS field mapping is key to creating the Port of New Orleans first enterprise GIS